About Bebon
Who we are
Production capacity
Agent Wanted
Culture
Hotline: 0086-371-86151827
Fax: 0086-371-86011881
Email: joy@bebonchina.com
bebonchina@hotmail.com
Skype: bebonchina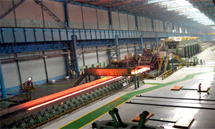 Henan BEBON is an outstanding exporter in exporting shipbuilding.. Because we not only have the great advantages in our product quality,price,resource and service,but also have absolute advantages in our technical aspects.
First, our rolling equipments
We have 4 stage reversible strip roll mill with maximum9000 ton pressing power enables to minimize internal flaw of the plates and automatic dimension control as well as shape control equipment also reduces the thickness deviation and improves the dimension accuracy of plates.
Second, our accelerated cooling(TMCP)
TMCP is the process of rolling and accelerated cooling(PILAC) to produces high tensile steel withoutheat treatment,which means by adding smallamount of alloy, high strength and superior tenacityare obtained and reduction of carbon equivalents( CEQ) provides better perfomance inuse of welding by the Customers.
Third, hot leveling
Residual stress is being removed to provide better Flatness as plates.
Fourth, Shearing
Steel plates after cooling zone,will go through dimension measurement and out into pieces of properlength and width by either gas or mechanical shearingmachine working conditions to ensure better accuracythe air knife gap and gas torch nozzle size.
Fifth, Heat Treatment To obtain customer desired texture of steel plates, scales are removed by shot blaster and heat treatment will be followed.heat treatment equipment is an indirect radiation type Which doesn't form scale during heat treatment.
The last, Ultrasonic Test and Z test.
Ultrasonic test is being done to guarantee customer required quality of intemal structure of steel plates by checking flaws such as blow hole,pipe laminating,etc.which may occur inside of steel plates.We can do the Z15 Z25 Z35 test on the steel plates whose thickness is below 8mm.
Except for these technical equipments, our factory's production capacity is also very strong.For we can provide you the minimum shipbuilding steel plate thickness is 3mm and the maximum thickness is 180mm.
Beyond the above,we also have been approved by some authoritative classification societies,like LR,BV,ABS,DNV,GL and so on.
Copyright © 2011 by Henan BEBON international co.,ltd. All rights reserved
Tel: 0086-371-86151827 86151627 Fax: 0086-371-86011881 E-mail: joy@bebonchina.com